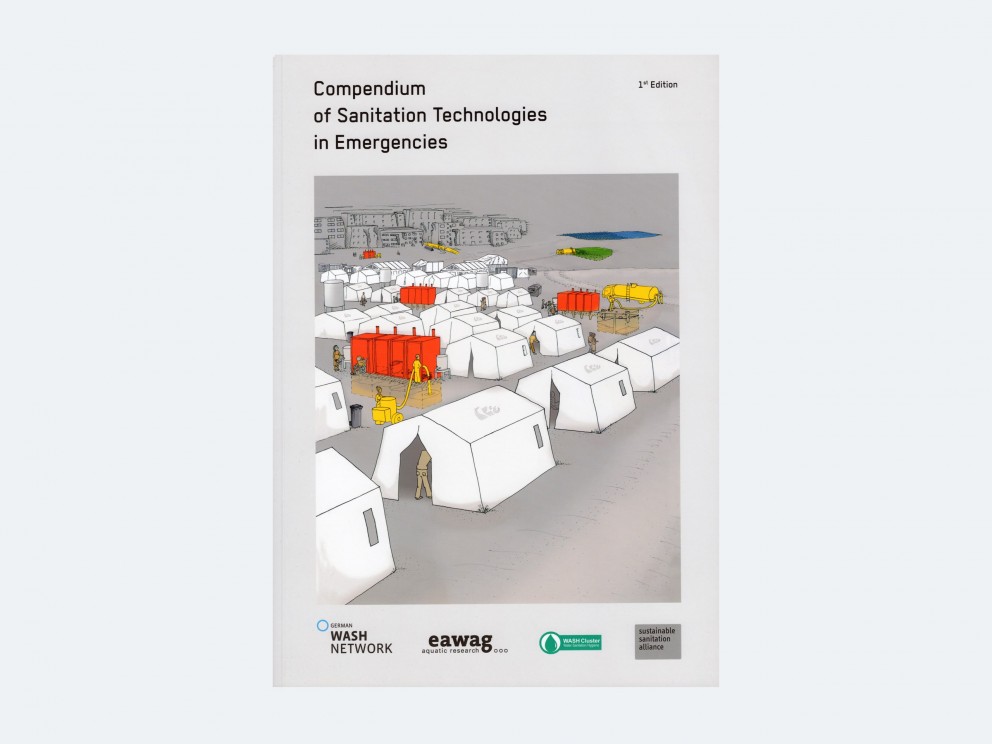 Over the years, German Toilet Organization has been repeatedly involved in the development of a number of important WASH sector publications, in which it collects accumulated WASH expertise in a targeted and demand-oriented manner, prepares it and makes it available to a broader specialist public either in regular online formats or as a more comprehensive basic publication. This includes publications on current sector trends such as the "WASH and Nutrition" or "Linking Relief and Development in WASH" topics or the standard work on technical sanitary solutions in humanitarian aid. In addition, GTO supports other organizations and networks in the production of relevant WASH publications.
All publications were developed under the leadership of the German WASH network.
Publications for download:
Compendium for Water Supply Technologies in Emergencies
The Compendium of Water Supply Technologies in Emergencies is the second volume of the "Emergency WASH Compendium" series and offers a comprehensive and structured planning guide on available water supply technology options in humanitarian settings. It disaggregates technologies into their functional components, clarifies terminology and provides guidance for identifying the most appropriate water supply technology solutions in a given context and for all relevant response phases. It supports decision making when designing a water supply system and offers concise information on key decision criteria for each technology and facilitates the combination of technologies to come up with full technical water supply system solutions.
Download the Compendium on washnet.de
Compendium of Sanitation Technologies in Emergencies
The Compendium on Sanitation Technologies in Emergency provides a structured and user-friendly guide and planning aid for sanitation solutions in humanitarian emergency relief. It supports and enables decision making by providing the necessary framework for the development of sanitation system solutions. It also brings together a wide range of proven technologies in a single document and provides accurate information on the key decision criteria for each technology.
Download the Compendium on washnet.de
Linking Relief and Development in the WASH Sector
The publication is intended to provide a more detailed overview of existing definitions, common categorisations and models currently used to describe the smooth transition in the WASH field and to identify existing challenges and opportunities. It deals with the most important disaster and crisis scenarios and their impact on the WASH sector. The publication contains definitions for different types of assistance (relief, rehabilitation and development) and the role that WASH plays in each of them.
Download the publication on washnet.de
2+6=17 – Linking WASH and Nutrition – A Blueprint for Living SDG 17
The publication supports all countries and players in the humanitarian and development sectors to find their individual ways of combining WASH and nutrition with a view to achieving the sustainable development goals. It promotes understanding between the two thematic areas and the various interest groups and provides examples and recommendations for increasing impact, sustainability and cost efficiency. All actors involved face the challenge of counteracting "silo thinking" and promoting integration so as to increase the impact and sustainability of interventions while preserving cost efficiency. "2+6=17" gives recommendations for action, supported by concrete examples.
Download the publication on washnet.de
WASH ePaper
The WASH ePaper is a regularly published online magazine which takes up in each issue a current main topic from the fields of water, sanitation and hygiene (WASH) as well as related sectors and highlights them in more detail. In addition, it informs about upcoming national and international events, current publications, projects and news from the sector. The WASH ePaper is published by the GTO.
See all ePapers on washnet.de
Register for upcoming ePapers here.